March 2023 marked a milestone in my life as my family and I embarked on an unforgettable expedition to India. I can honestly say this was the most special trip of my entire life for multiple reasons…if you are a traveler, you know this is a big claim! Packed with adventure, cultural immersion, and spiritual awakening, this journey not only celebrated my father's 80th birthday, but also deepened our understanding of ancient yogic history and LIFE. From road tripping through the enchanting landscapes to experiencing the vibrant festivals, our Indian adventure was nothing short of magical. Join me in recapping the awe-inspiring moments of this trip as we prepare to share the experience with you during our India Yoga Retreat in March 2024.
CHAPTER 1: THE JOURNEY BEGINS – ROAD TRIPPING THROUGH INDIA
Our 3-week adventure began as we touched down in Bangalore. With our entire family in tow, including my dad, Chick; mom, Suzanne; big brother, York; my husband, Isaiah, and our three little girls Zuri age 8, Zaya about to turn 5 during our extravaganza and Zizi who turned 2 on the airplane over; we set off on an epic road trip throughout the country. If you have been to India you know it is huge – and a roadtrip in this country is not for the faint of heart! The diverse landscapes, from the majestic mountains to the serene countryside, greeted us at every turn. It was a journey of self-discovery and connection, as we bonded over the sheer beauty of India.
CHAPTER 2: EXPLORING THE WONDERS OF INDIA
HAMPI:  Our first few days were in the jaw-dropping ruins of Hampi, where we marveled at the ancient temples and intricate carvings that seemed to whisper the stories of bygone eras. Our first outing seemed to whisk us into the Jungle Book, as the temple was the inspiration for King Louie's fortress in the classic story. My entire family shared in inquisitively gathering facts, pointing out fine details, pausing on dusty paths as herds of goats plodded by, bursting in laughter and purely enjoying the shared moments. I knew immediately that this trip would be filled with moments of presence so real you can appreciate the unique memories being formed as they are being acted out in real time.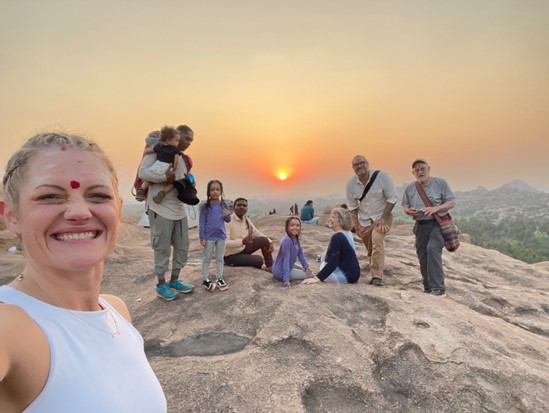 The second day burned into my heart for all of time. From start to finish, it was one of the best days of my entire life. We spent the day exploring multiple temples, learning and confirming years of yogic knowledge with our guide Ravi. By the afternoon my entire family, one-by-one, received a blessing from an elephant, and by evening we hiked up to a lookout point for sunset. It's almost frustrating to try to capture in words something that felt so special it seemed to alter your DNA. We crawled on hands and knees into a rock formed Shiva Temple where we received another blessing by a Brahmin (priest). With three white lines and a red dot swept across our foreheads – like we had been officially initiated into our adventure – we looked out over the golden globe of a sun setting on the horizon. As we sat on the warmed rock boulders, surrounded by my entire family, my being overflowed with the blessing of the moment. 


TIGER SAFARI: Our hearts raced with excitement as we embarked on multiple tiger safaris in not one, but two, of India's lush national parks: first Kanna and then Bandhavgarh. Day one was a tiger strike – despite a pre-dawn wake up call and the entire day in jeeps – the tiger's eluded us. WAH! So, the second safari day – when we were witness to 4 of these majestic creatures in their natural habitat, left us in awe of the country's rich biodiversity. How do you describe a tiger in the wild slinking by just feet in front of your open-air jeep and then disappearing into the jungle without a trace? You can't. 
KHAJURAHO – TEMPLES OF LOVE: The temples of Khajuraho left us breathless with their exquisite and sensuous sculptures that told tales of love, devotion, and human connection. Famous as one of India's 7 Wonders – this place is rich with the country's largest group of medieval Hindu and Jain temples all adorned with erotic sculptures. Learning about the intricacies of how the culture honors this kamasutra knowledge was expansive.
Here we also had the opportunity to interact with local villagers. The moment we stepped out of the car, a flood of children surrounded us and of course were enamored by my three little girls. To witness my children connect with people around the world and see how others live is probably one of the most enriching experiences of my life… and one of the main reasons I travel with them often. We entered small multi-generational houses, built largely of dried cow dung and clay, were able to inquire about and appreciate the simplicity with which they lived. 
VARANASI – THE SPIRITUAL HEART OF INDIA: Varanasi enchanted us with its ancient mystique. The bustle hit me like a ton of bricks and I felt fully like, "Woah, I'm in India." I had never experienced so much mayhem and business before as my family attempted to weave our way through the ocean of people…always careful not to get clipped by a motorcycle squeezing its way through. We made our way down to the Ganges river where we explored via boat. We witnessed as families honored their dead at the river crematorium. I remember feeling so connected to the totality of life and how we are all just having a human experience, walking eachother home. The gratitude for this moment of aliveness with my entire family swept over me. I explained to my kids that the silk-wrapped lump that was burning was a dead body and was being released through a spiritual ceremony. Later we participated in the mesmerizing River Aarti ceremony, where the river came alive with flickering lamps and chanting. It was my first ever interaction with the Ganges River and it invoked all the depth I thought it would.
HOLI – It was here in Varanasi that we experienced the vibrant festival of Holi, painting the town in a riot of colors. The night before, the city was lit up with bonfires left and right for Halika Dahan – the burning of the demoness Holika, symbolizing the triumph of good over evil. The next day we strolled the city and shared blessings of renewal with the locals and the new beginnings marked by Spring. Here again, I felt the entire world shift to slow motion as I looked into a crowd and witnessed my 80-year old father dancing with Indian locals, laughing, and sharing colorful powder blessings with everyone around, "Is this really my life? Is this really my dad? Is this really my family?" I thought, "Yes it is. WOW."
SARNATH – THE BUDDHA'S FIRST SERMON: On the last day in Varanasi we visited the nearby site of the Buddha's first sermon. Just being on the grounds alone and hearing again the story of the Buddha brought the awakening that his journey and teachings stand for to life.
RISHIKESH – THE YOGA CAPITAL: Our last stop in Rishikesh, nestled in the Himalayas, was profound. I had been waiting my entire "yogic career" to come to India, and in particular this place, and it was more than I could have dreamed. Yoga saturated each corner and we just happened to be there during the International Yoga Festival held at the famous Parmarth Niketan Ashram on the River Ganges. The simple act of practicing on Ma Ganga, with world renowned masters, allowed me to delve deeper into ancient yogic history than ever before. I felt the depth of this lifestyle surging through me as I held hands with my husband in savasana during a class led by Gurmukh Kaur Khalsa…a radical woman with whom I had always wanted to practice.
CHAPTER 3: FAMILY BONDING & SPIRITUAL AWAKENING
Traveling with our entire family allowed us to forge deeper connections and create lasting memories. This entire journey was prompted by my dad's desire to travel India with his whole family in celebration of his 80th birthday. Super special shout out to both my Dad and also my brother, York, as they spearheaded every detail of planning and executing our trip. I know from planning retreats it was a total act of love and generosity to create this experience for us and I have found it really hard to express to them both the impact this trip has had on my personal life, my family, my yoga practice and career. I see you both and thank you.
Our journey through India also served as a spiritual awakening. I had been walking through a really rough season of depression when we embarked and as we explored the ancient motherland of yoga, honing my mental well-being, and gaining a deeper understanding of its origins and philosophy, I re-awakened and initiated a massive phase of healing in my life. There is something about travel that cannot be captured – only felt – and I felt this one in all the layers of my life.
CHAPTER 4: DO IT AGAIN – THE INDIA YOGA RETREAT – MARCH 2024
Inspired by our life-changing journey, I invite you to join me on an unforgettable adventure. Our India Yoga Retreat in March 2024 offers a unique opportunity to immerse yourself in the beauty, culture, and spirituality of India. Walk the world wonder of the Taj Mahal, safari in the wild, experience the magic of Holi, explore the timeless temples and deepen your yoga practice in Rishikesh.
This is a unique, whirlwind-paced, on the go, road trip style retreat. We will practice yoga together in awe-inspiring locations and saturate in the lifestyle from which yoga was born. Spots are limited for this style of retreat so to secure your seat check out all the details here now!
FINAL THOUGHTS
Our trip to India was more than just a vacation; it was a transformative experience that touched our souls and brought our family closer together. It also fortified my yogic lifestyle in unexplainable ways. Now, I want to share this incredible journey with you in a way that leaves you feeling HAPPY, HEALTHY AND HOLI. Join us for the India Yoga Retreat in March 2024, where you can embark on your own life-changing adventure and discover Incredible India and the magic of ancient yogic history. It's a journey of a lifetime waiting to be embraced.