**COMPLETED** The Samadhi Experience: PERU YOGA RETREAT October 15 – 25, 2022
Join the Global Soul Squad for this uplifting and liberating experience in Sacred Valley, Peru. In this 11-day/10-night retreat we will move deeply into spirit while adventuring within sacred territory connecting with nature and the culture in Peru – including a day trip to Machu Picchu!
THE SAMADHI EXPERIENCE
PERU YOGA RETREAT
DATES: OCTOBER 15 – 25, 2022
HOST: Piper plus amazing guest teachers
Join the GLOBAL SOUL SQUAD for this uplifting experience in Sacred Valley, Peru. SAMADHI is a Sanskrit word that means 'enlightenment', 'liberation' or 'union with the Divine'…it is the EXPERIENCE of the most blissful self. Together, for 11-days and 10-nights we will retreat and move deeply into spirit while adventuring within sacred territory, connecting with nature and the heritage in Peru.
Set down your day-to-day routine, take yourself off autopilot, stop DOING and start EXPERIENCING your truest essence. This SAMADHI EXPERIENCE will foster a profound connection to your truth and BOUNDLESSNESS with ample opportunities to deeply practice yoga and meditation. Open to new levels of connectivity to all of life during our spiritual excursions and yogic explorations.
This retreat will give you the PERFECT BALANCE – deep meditative work, daily yoga (often twice per day in a variety of styles), free time with pure opportunities to live in the moment, guest teachers who will amplify your cultural and spiritual experience and excursions to the most stunning sites near and within the Sacred Valley – including a day trip to Machu Picchu.
Join us in the Andes this October.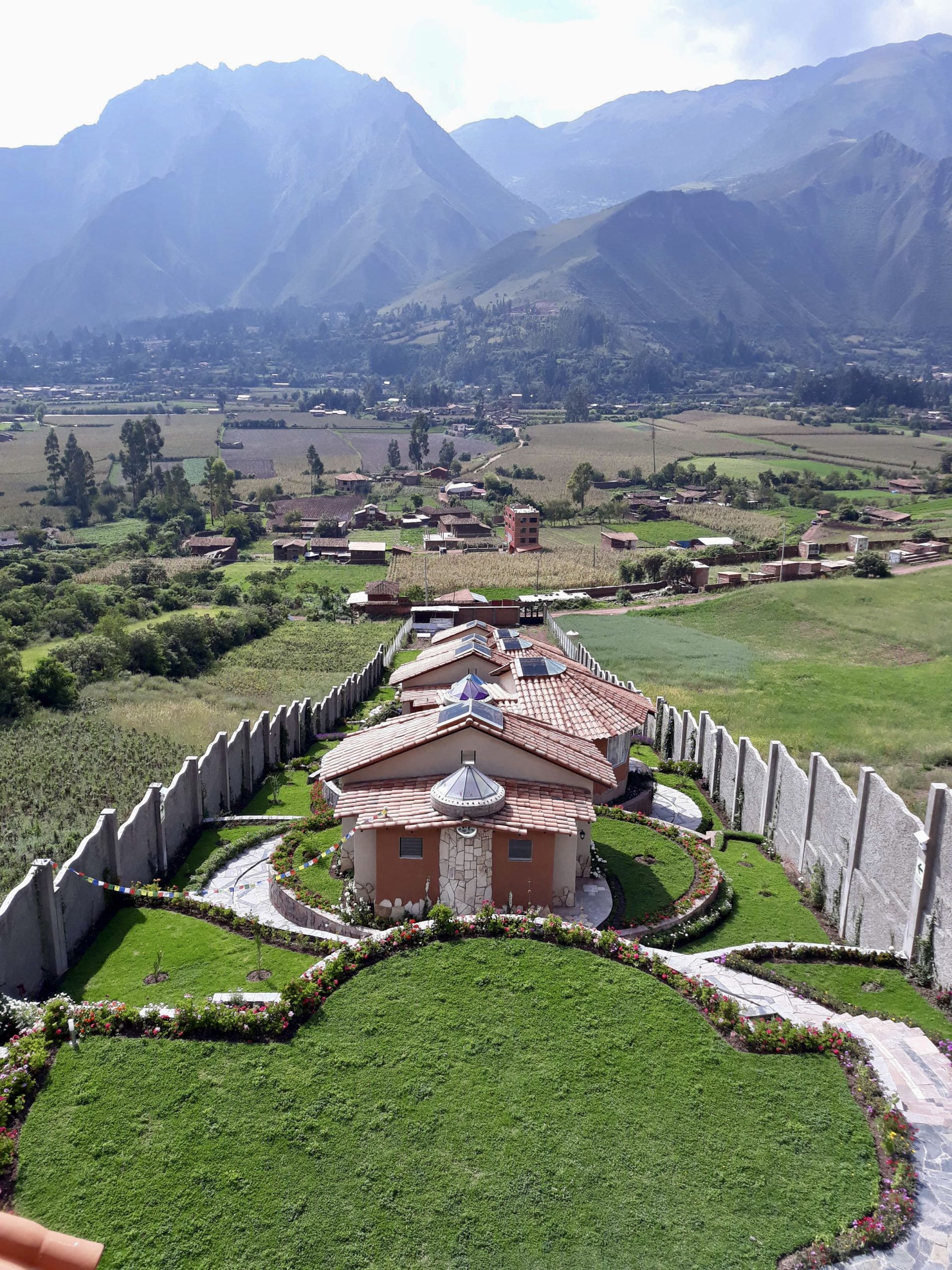 ACCOMODATIONS:
In the middle of the natural environment, surrounded by mountains and ancient culture, grows SAMADHI SACRED VALLEY  – where we will stay our entire retreat. Designed with sacred geometry, Samadhi will submerge you into the universe of Los Chakras with bungalows that reflect each of the 7 chakras coiling their way up in true Kundalini style to the main lodge. Additional suites, the dining and living room make up the main lodge – not to mention the jaw dropping yoga studio on the top floor that overlooks the most beautiful view of the Sacred Valley.
CONSCIOUS EATING:
Bless your body and lighten up with the all vegan and vegetarian cuisine. At Samadhi most of the food is harvested directly from their two organic gardens. The dishes are super nutritious, balanced, healthy and prepared by artist-chefs. Your immune system will be strengthened with various superfoods and your body will be cleansed.
*This is an alcohol-free experience.
INCLUDES:
2 airport transfers to/from Samadhi *from Cusco Airport (included on 15th & 25th) 

*one hour 15 mins drive from airport

10-nights accommodations @ Samadhi Sacred Valley

Organic vegan & vegetarian farm-to-table meals *not included 1-2 meals while out on excursions

Daily Yoga & Meditation *various styles

Yoga Equipment *provided on site

Transportation for all excursions

Local Peruvian guides for all excursions

Not to mention an itinerary that has the coolest experiences already included! Speaking of…
THE COOLEST ITINERARY – INCLUDED:
I love that this retreat is stacked with goodness – but also has lots of time built in to simply be. The schedule is mindfully designed to allow us movement, culture, adventure, healing, stillness, silence and community all to contribute to a true SAMADHI EXPERIENCE. Already scheduled in and included is:
A day trip to Machu Picchu
A visit to the beautiful Salt-Mines of Maras-Morey
Multiple Spiritual Hiking excursions – connect to the elemental beauty of this earth
A trip to Pisac Market – take in the colorful Peruvian shops & support the local community
Art Therapy on site included as:

A pottery class
A cooking Class
A Sound Healing experience
A Pachamama Ceremony – thank Mother Earth with this Andean native ritual
ADDITIONAL CONSIDERATIONS & COSTS:
All flights to Cusco (CUZ – Alejandro Valasco Astete International Airport)
Any required Covid 19 testing/vaccine requirements *see below Covid info
Travel Insurance – get a quote at Travel Guard
Travel/Spending money
PRICING:
$ 3240 per person double occupancy
$ 4740 single occupancy *inquire for availability

PAYMENT SCHEDULE:
Pay-In-Full Double Occupancy:
One payment $3240 for 1 adult (double occupancy) 
3-Payment Double Occupancy Option:
| | |
| --- | --- |
| Payment 1 – Non-Refundable Deposit | $500 |
| Payment 2 – 50% of total due June 15, 2022 | $1120 |
| Payment 3 – 100% due by August 31, 2022 | $1620 |
**Please note ALL payments are non-refundable unless**
PAYMENT PROCESSING:
Let's go explore and create the memories of a lifetime!
COVID CONSIDERATIONS:
Traveling to Peru:
Covid Vaccination OR Negative PCR Test are required for entry into Peru
All travelers must submit a sworn Health Statement prior to travel
While in Peru:
Covid Vaccination or Negative PCR test required for entry to Machu Picchu
Negative PCR test required for re-entry to United States
PERU TRAVEL INFORMATION (CLICK HERE)
*Note any tests during our stay in Peru can be arranged at the resort for and additional $110 per person