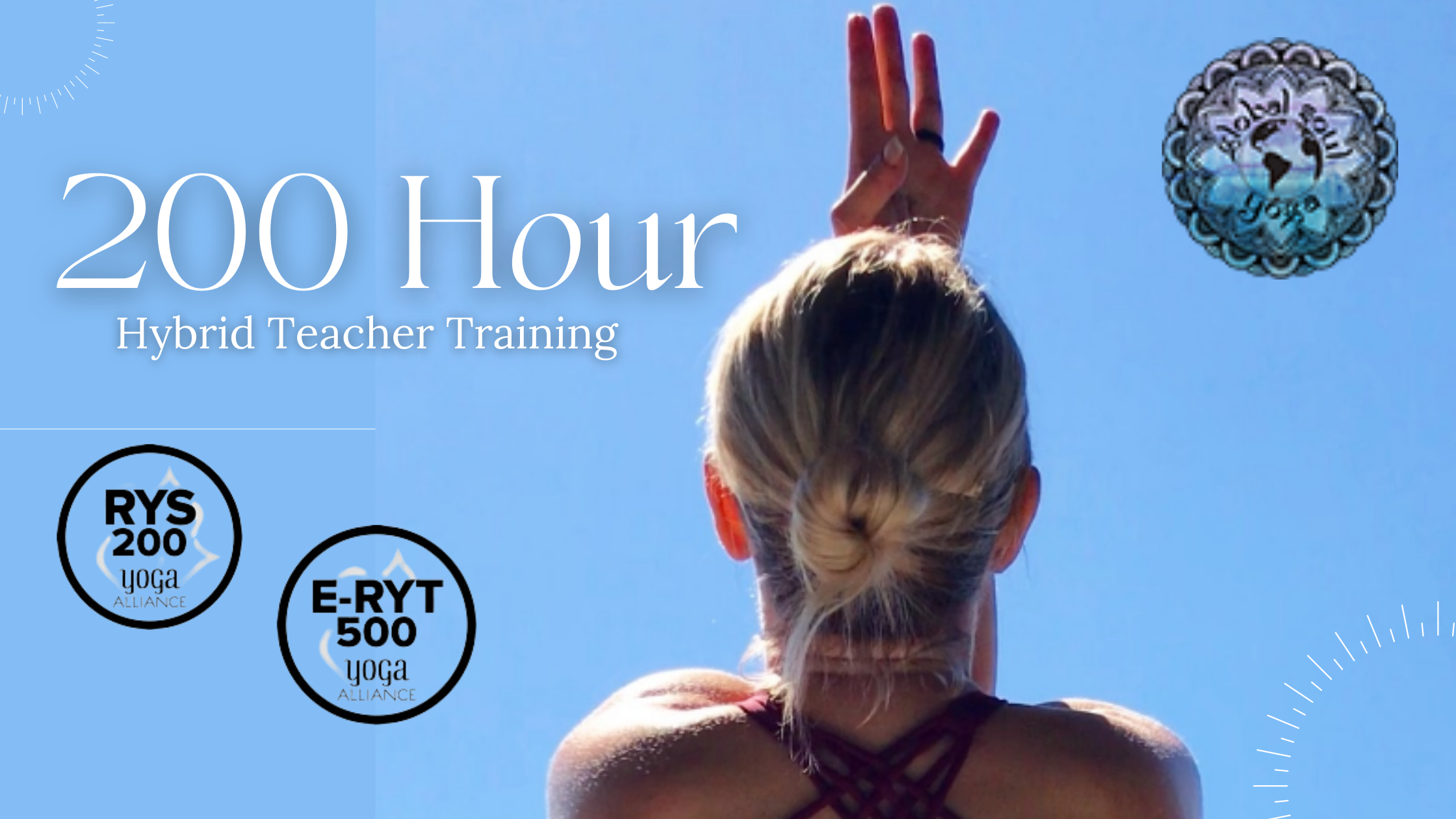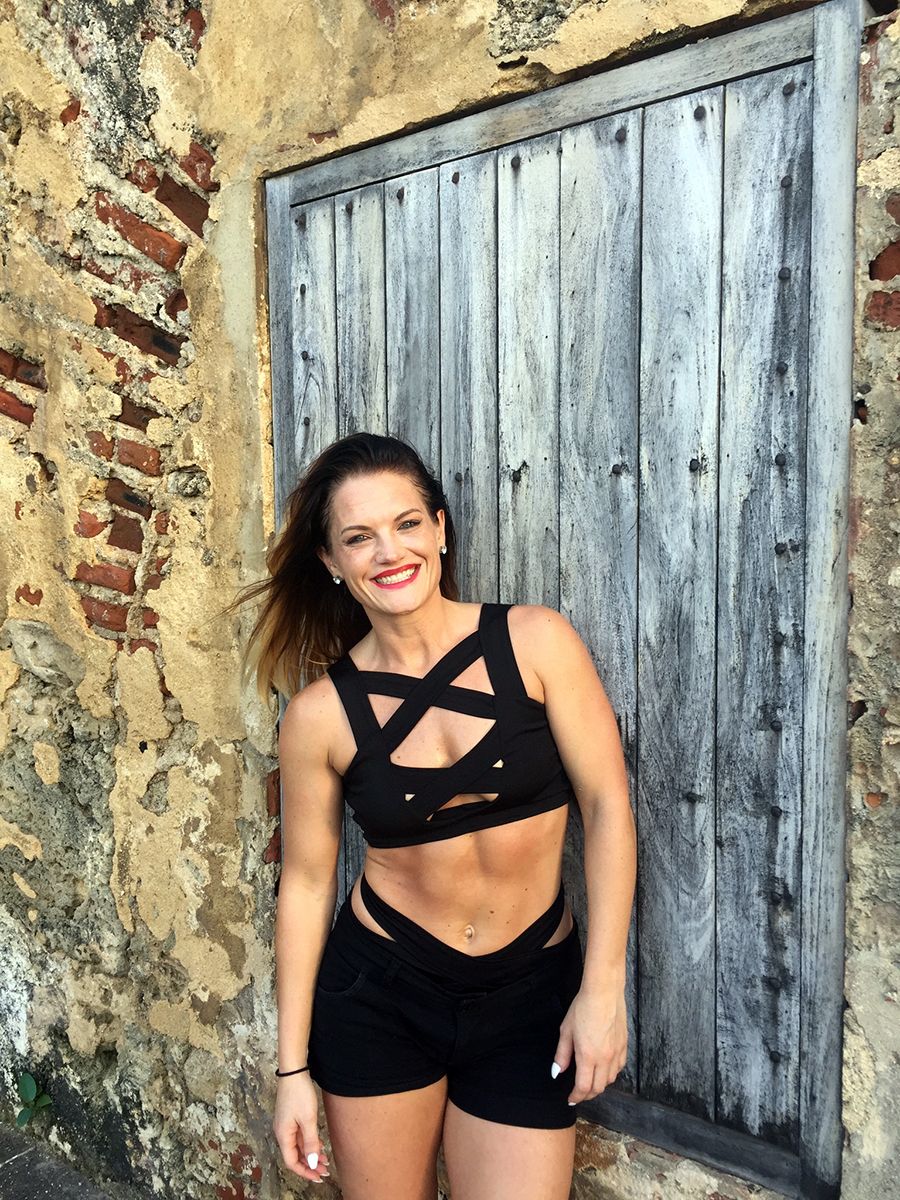 Led By
Piper Sandifer Hogan, E-RYT 500
Piper's life took an instantaneous shift when she discovered yoga. Yoga was her catalyst to discover a joy untouched by circumstance and was called to use the blueprint of yoga to serve others. She set out to combine yoga, her craze of travel and her authentic concern for the matters of the human heart.
Nearly a decade later, thousands of hours teaching in both the Pacific Northwest and around the world, having provided consultation for numerous studios and certified hundreds of teachers – she is the founder and academic director of Global Soul Yoga. Her classes and training programs are dynamic, challenging and uplifting as she encourages us to live more globally and soulfully.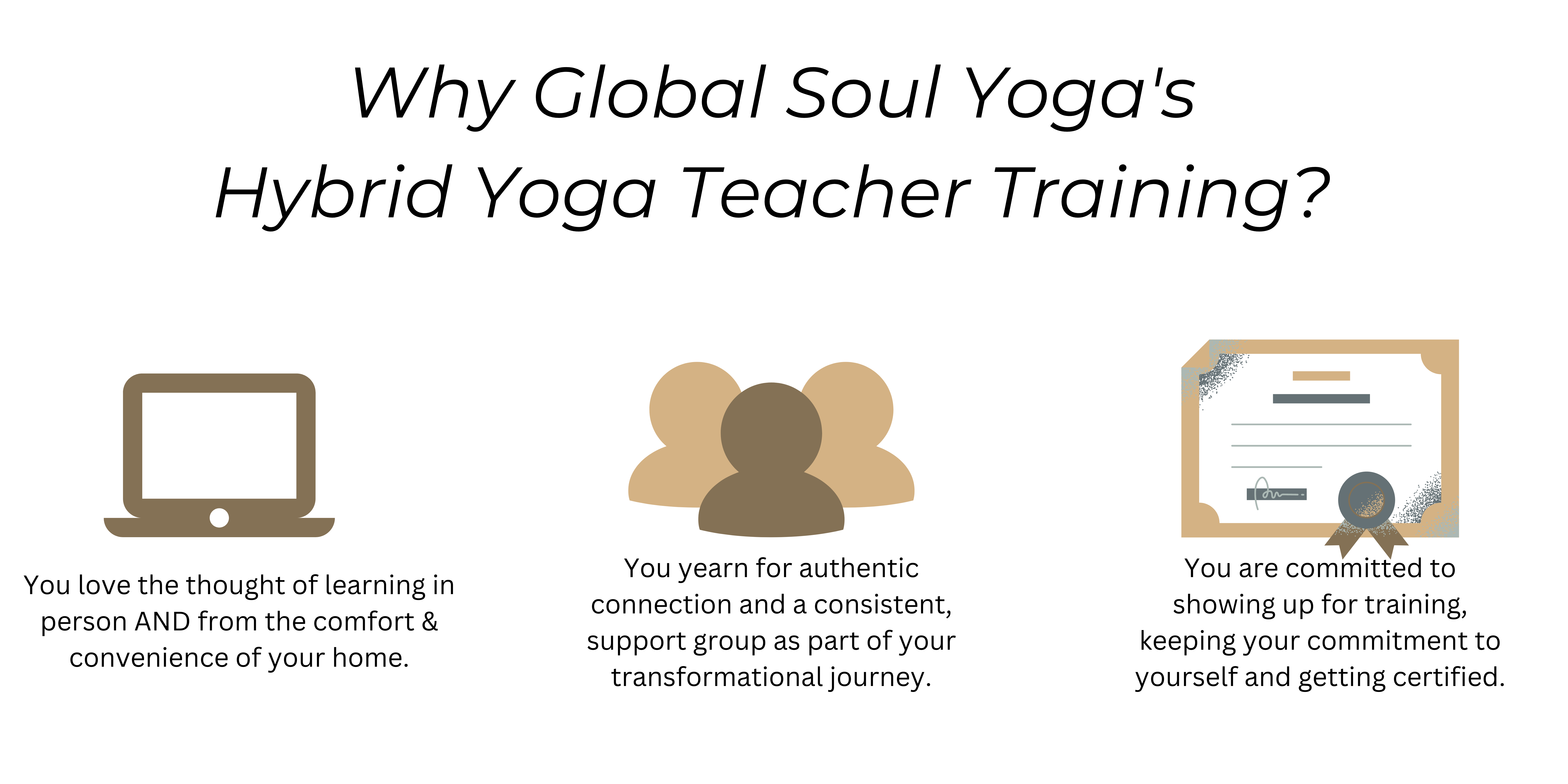 "Piper has put together an incredibly diverse curriculum. I feel prepared to teach several styles of yoga and I gained solid knowledge in so many areas such as yoga history, Hindu/Buddhist philosophy, anatomy, the breath and more. She added to the in-class time with meaningful homework and a book selection that I know I will refer back to again and again. This school is appropriately called Global Soul as she puts her heart and soul into each student and creates not only a wonderful curriculum, but a wonderful experience. I strongly recommend her 200hr training course to anyone considering becoming a yoga teacher or looking to enhance their yoga knowledge."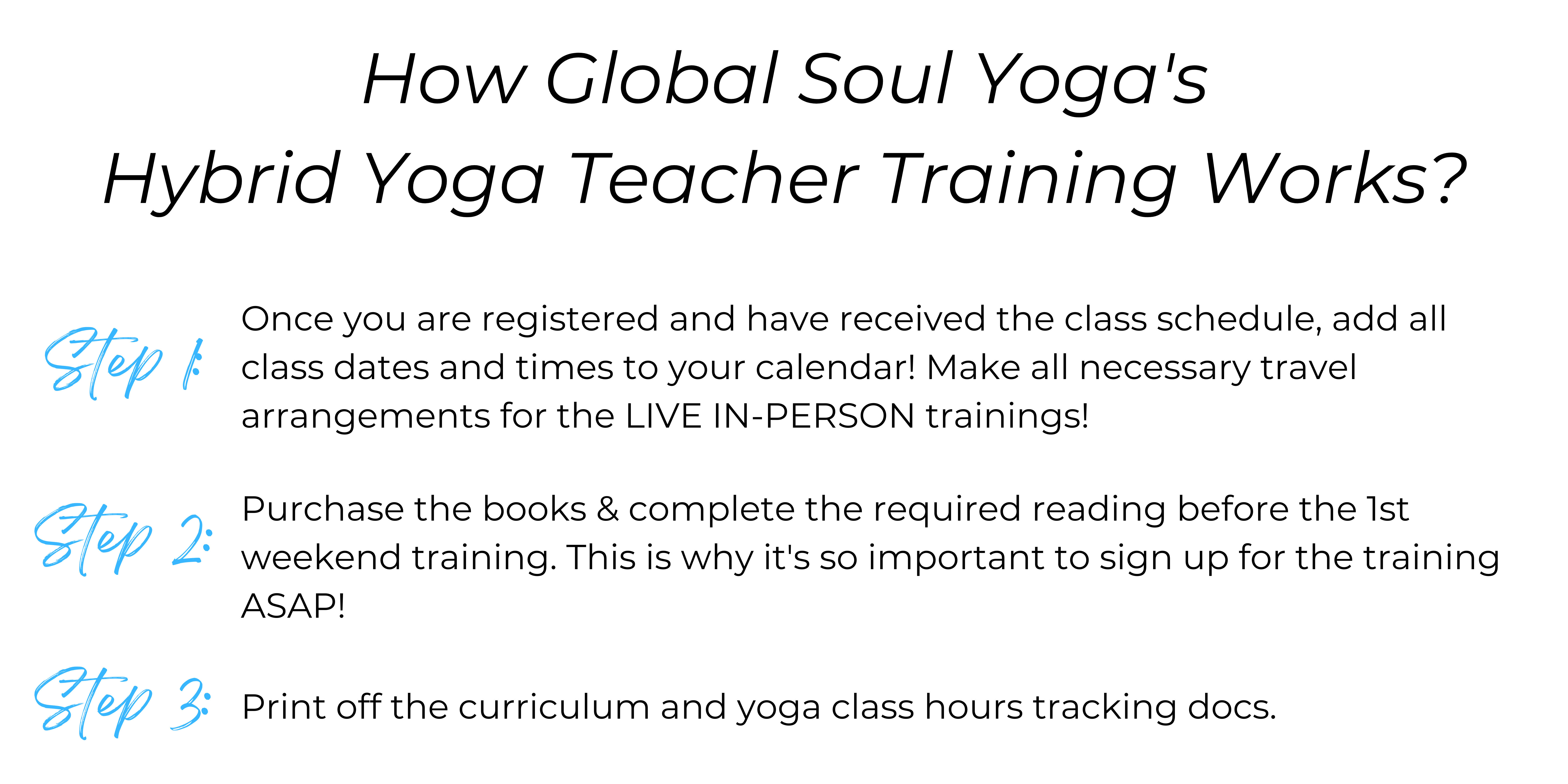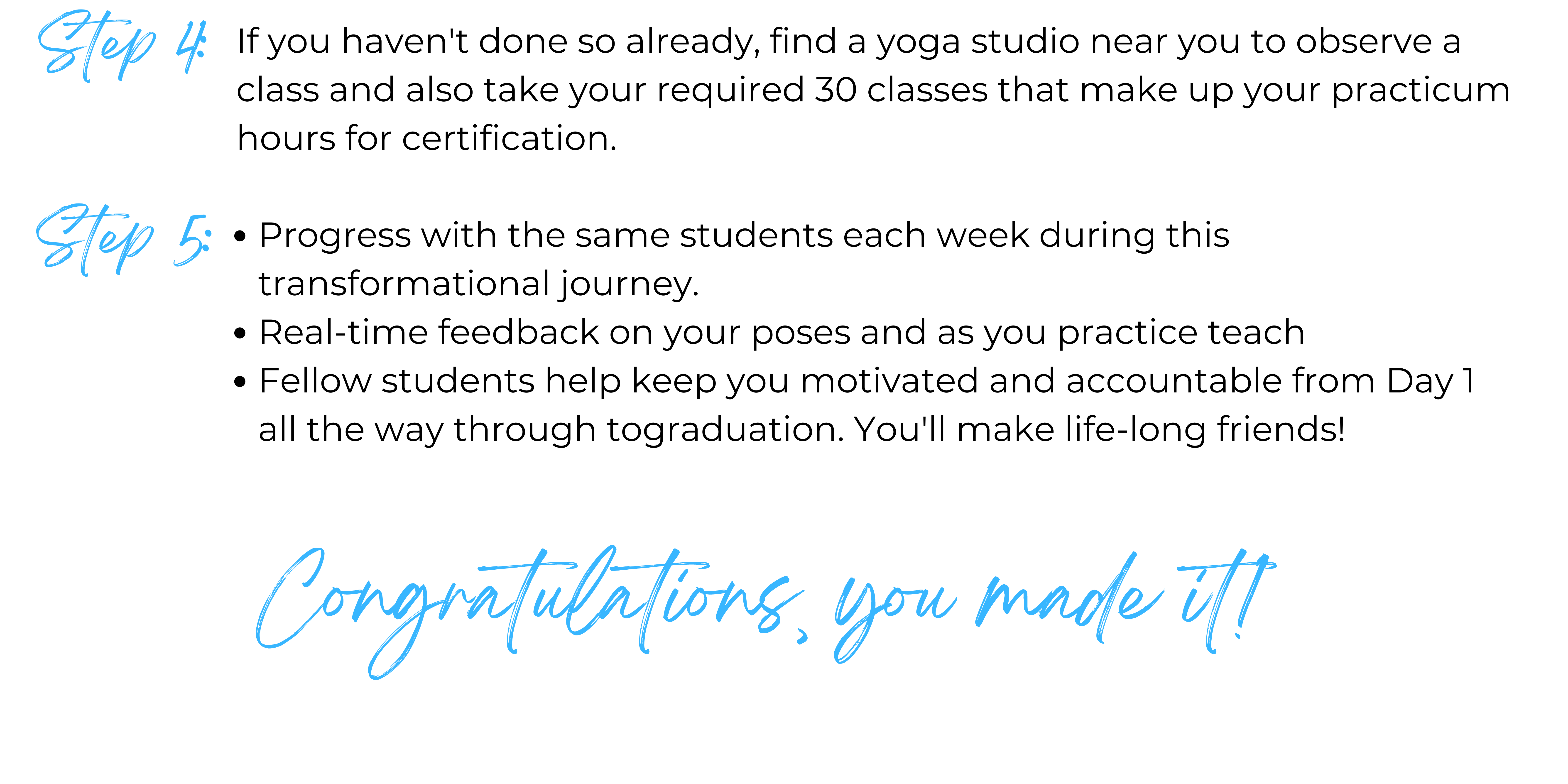 "This was a great teacher training program. We covered a lot of interesting material and learned so much! Overall it was a wonderful experience. I would recommend this training to others. Very grateful to be able to work with Piper."
Who is this program for?
This hybrid online & in-person yoga teacher training program is for yoga students looking to teach yoga as a professional yoga instructor or simply to deepen their personal practice.
Our Global Soul Yoga trainees:

Love the thought of learning in person AND from the comfort & convenience of their home.

Yearn for authentic connection and a consistent, support group as part of their transformational journey.

Are committed to showing up for training, keeping their commitments to themselve and getting certified.

Understand that mastery of any endeavor is a lifelong pursuit.

Should I have achieved a certain level of yoga before taking this course?
Ideally, you've been practicing yoga postures daily, have experienced the benefits of this practice, and want to share it with others, that's why you're looking to become a certified yoga teacher.
Are there requirements for you to complete a certain number of hours of yoga before you can begin this training?
Not at all! For this 200 Hour Yoga Teacher Training, no prior training is required.
What type of content will I learn?
Great question! That's why I give away a sample of a class, the course syllabus and the current class schedule! Simply sign up to receive these items via email.
I teach both the physical practice and philosophical aspects of yoga. The lessons will include in-depth study of the teachings of ages-old yoga traditions, pranayama meditation, and yoga asanas.
I want you to have a life-changing experience through this program while at the same time, improve your personal yoga practice and learn or enhance your yoga teaching skills.
What if I work full-time? Can I still do this training?
Absolutely! As a busy, working mom myself I understand how precious our time is. I specifically structured this training with busy professionals and parents in mind.
How long does the training last?
This 200-Hour training lasts approximately 4 months (start to finish)
Are there books or other materials that aren't included in the price?
 Yes. You will be required to purchase your required reading materials (several books), yoga practice "essentials" if you don't already have them, and your travel and accommodations for the in-person training portions. You'll also need to make sure you have the technology to support the online classes. 
What system/other requirements are needed to participate?
A webcam or smartphone with a camera (an iPad or other mobile device works just fine!)
A decent internet connection
Can I take this training if I'm pregnant?
Yes! Yoga is safe to practice while you're pregnant. I encourage you to listen to your body and make the necessary modifications. This is an amazing way for you to learn how to teach other pregnant women.
Can I take this training if I have an injury?
If you are able to get into most yoga asanas (yoga postures), even if modified, then yes. Using modified postures isn't just allowed, it's encouraged!  I encourage you to WAIT TO ENROLL, if you can't do any yoga at all.  Being able to experience the yoga postures is important to becoming a certified yoga instructor through this program.
What if I am not that "good" at yoga?
Let's be clear that being "good" at yoga is not summed up in your physical practice – not in how well you can do a handstand or how open your hips are to the splits or how pretzely you can contort your limbs. For real. It's a practice – a lifelong practice at that – so learning how to stabilize your practice and allow it to fit into your needs and be a foundation on which you can grow is how you get "good". So we will get "good" together.
I can't meditate - my mind won't be still…will there be lots of meditation practice?
I'm happy to say YES – there will be lots of meditative moments. And if the belief that you have created is "I can't meditate, my mind won't be still," then this guidance into a meditative practice is precisely what you need! We will explore various styles of meditation, both guided and self-initiated, using lots of different tools and techniques and you will be able to more clearly experience the meditative process and then replicate it. 
What styles of yoga will be our focus?
Many. In this initial 200-hour program, we will utilize Vinyasa as a main source of honing teaching skills and it will be practiced and used as a teaching baseline. However, we will infuse a few short modules into other styles – like the 26/2 series of hatha as well as yin – to gain deeper insight into the the practice and hold space for different styles. We will also use different Buddhist meditation techniques and practice Kundalini/Kriya yoga to amplify our time. I am someone who whole-heartedly believes there is not a fine line in the sand between yoga styles – and therefore tend to blend them together into a practice that suits my growth. The goal is to be well exposed to a variety of styles in this first training. 
What if I don't really have a desire to teach yoga?<br />
Well that is all good! Yoga is a lifestyle – a set of philosophical viewpoints that enhance everything in your life and therefore this training will be influential whether you decide to teach or not. We do practice teaching throughout the program and all students will be required to wholeheartedly participate and to take the final exam and teach a final class – however, these serve as amazing growth tools as well as prep for teaching. Also the cool thing is – whether you have a desire to be a traditional teacher or not – people tend to organically share what they are passionate about – and therefore you will end up teaching in some form or another, even if just by example.
What if there are some training dates I cannot attend?<br />
Certainly, you will gain the most out of this experience by swiping your schedule clean and being present for every hour of each training session – this is the expectation. However, we do understand that life continues during training – so no more than 2 full days can be missed in the 200-hour program (must be present the first 2 training days). All missed hours will need to be made up with additional work. All absences must be pre-scheduled and noted on the Enrollment Form. 
What about all things covid/pandemic?
As with any training, our number one priority is safety – we will take measures to ensure this is a safe environment as possible. We can only control our response – so with that being said – if for some reason COVID or some other issue impacts our plans in any way we will simply amend and communicate as needed.
Is this a Yoga Alliance certified training?
Yes – this 200-hour course is approved as an RYT-200 (registered yoga school 200 hour level) and therefore you will be eligible upon completion of the program to be approved as an RYT-200 (registered yoga teacher 200 hour level) directly through the Yoga Alliance. 
The Yoga Alliance is simply an organization that sets standards for yoga teachers and yoga schools alike. This can be a great thing – however, training with a Yoga Alliance Registered school – and even listing yourself a Yoga Alliance Registered Teacher – does not summarize in all reality the quality of the training program itself. It just somehow along the way became a standard that newer students ask about in order to have a benchmark on the legitimacy of a training they might be considering. An innumerable amount of training programs around the world do not adhere to listing their schools or themselves as Registered Yoga Schools/Teachers – so in your research I wouldn't get hung up on it. 
With that said – there is also the designation CYT (certified yoga teacher) that can be used for a student who either didn't take a Yoga Alliance certified course – or did take a Yoga Alliance certified course and chooses not to enroll or list themselves directly on the Yoga Alliance site as an RYT-200. 
Does the Yoga Alliance recognize online training/the online portion of the 200-hour course?
This is an ever-changing answer that currently is YES. Pre-COVID pandemic, the Yoga Alliance did not recognize online training systems as eligible to be a Registered Yoga School (RYS), however they adjusted their rules during the pandemic and have continued to integrate online schools eligibility. Global Soul Yoga is approved as an online school provider – in both live formats and pre-recorded content – and we will certainly continue to monitor and adjust with the changing Yoga Alliance Online requirements. 
Can I teach with this yoga teacher certification?
Yes! you can teach private lessons, corporate gigs, in yoga studios, start your own Youtube channel or online yoga business – whichever path is right for YOU!
Will I be able to keep in touch with my fellow graduates?
YES! Yoga teacher trainees will have their own Facebook group that we also moderate heavily. We offer deep community support throughout your teacher certification program so that you can continue to learn and grow, even after you have graduated!
Is this a one-time thing, or will there be other opportunities in the future if now is not a good time for me?
Learning Styles - will this be right for me?
Because this training is a mixture of live teaching, group interaction, reading, video, observation, and writing assignments as well as experiential practicum – every learning style is incoporated into this course. 
Will there be other teachers teaching the course work?
At times, yes. I own a thriving Yoga School and travel all over the world teaching yoga and hold yoga retreats. You can check out the upcoming retreats HERE! But don't worry! I have vetted, and many times, trained my substitute trainers. I fully trust them to follow the curriculum I have set out and know you will be receiving a quality education and experience. 
"Global Soul an amazing, one-of-a-kind experience!! I would recommend it to anyone interested in yoga on any level!!"

If you've read this far, it's probably because you have a burning desire to practice yoga at the highest level, you may be looking to enrich your own yoga practice. Or you feel a deep calling to teach others this life changing way of life.
Stop your suffering. Help stop others' suffering. Activate what's inside you that can bring you peace beyond understanding. As your life begins to change, you naturally start radiating grace, gratitude and giving. When you learn to embody the role of teacher, you help others find that inside themselves. It starts within ourselves and radiates outward. Trust your hibernating healing potential. Become your own best teacher… or, should you choose, start your own practice teaching others. Who knows, you may end up like me with a career you love beyond your wildest dreams! Your yoga journey is about to take you on a journey of self-exploration into a world of pivotal personal wisdom.
Won't you join me and many others on this path of transformation?
PAY IN FULL TODAY!
RECEIVE BONUSES!
FREE live online 40-Day Sadhana Squad*

FREE month of practice at Balance Hot Yoga

Over a $300 in valuable bonuses!
PAYMENT PLANS - $500 DOWN
Starts Your Payment Plan!
Payments start September = 4x $762.50

Payments start October = 3x $1017

Payments start November = 2x $1525
All payments will be made via credit/debit cards. Payment plans are auto-charged. You will make the $500 payment online and then receive an email with a link to start the actual payment plan by the SAME DAY THE FOLLOWING MONTH. From that point forward, the payments will be auto-charged until tuition is paid in full. If you start a payment plan in December 2022, the deposit is due immediately and 2 payments can be made. Both will be the same as the November payment amounts, made 2 weeks apart so that all tuition is within the first month of the training.